I remember when I was young, I had this pair of ripped up jeans. They earned every hole, every fray. I took them biking, hiking, swimming (accidentally) and camping. They were my favorite jeans. They were completely broken in and fit me like a glove. However, they were not worn for going shopping, not for going out to eat, or even hanging out at the movies. They were for rough and tumble fun that only a young tomboy can enjoy.
Now, I have to hunt to find a pair of jeans that do not look like the one's that I had to finally get rid of because there was hardly any jean material on. The idea of jeans that do not look like they were worn out seems to be a thing of the past, and though I like the band, I really must blame Nirvana and the Grunge movement. Here is a hint though, Kurt Cobain is dead, and Nirvana is not making music anymore. The Grunge movement is now known as Garage music, and the whole thing is done. Get over it.
Sounds cold, I know, but really, it is so done, let us move on. The idea of buying a pair of ripped up jeans, with lacy patches, for $200 is ridiculous! If I wanted that, I'd go to the thrift store. I would not be looking in Gap for a pair of jeans that look like someone hit them with a truck. Come on, wake up and realize that you are spending a fortune to look like you don't have any money. How fashionable and attractive is that?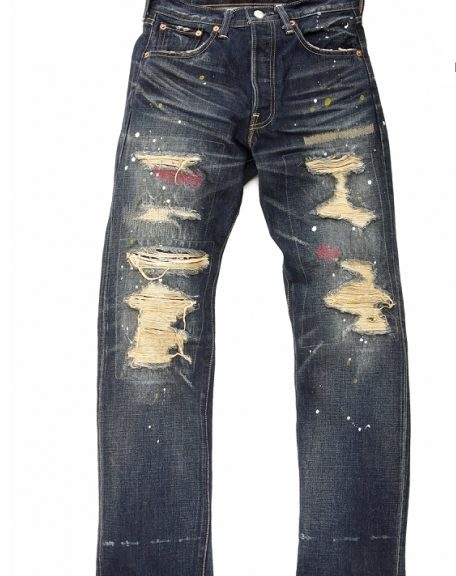 If your jeans are so torn you have to wear leggings under them to avoid being charged with exposure, then it is time to get new jeans. If your jeans are stained, worn through before you have even worn them, think about it. Do you really want to look like you have had those jeans since childhood, or do you want to look like you could afford new and attractive jeans?
Need another reason to pass on those faded, ripped jeans? The faded marks are lighter than the jeans themselves, drawing more attention to that area. This can draw more attention to your butt and thighs, something most people try to avoid. Even those individuals who are tiny often look thicker there due to the fading in the jeans. The rips do the same thing, it looks like you are bursting through your jeans, not fitting them.