There are some movies that simply take on a life of their own. They influence fashion in a way that no one expected. These movies speak to people on a huge level and people want to dress like or support the characters in the movie. It is as though the movie takes on a life of its own and the characters walk off the screen and into the every day life.
The Matrix brought about the trench coat and the duster from the military utilitarian wear into the civilian fashion wear. Along with the black leather duster and trench, this movie brought the dark sunglasses and leather clothing. The sleek and futuristic look became all the rage. Not that the fashion world suffered too much due to this.
One of the latest movies to influence the fashion world is the Twilight series. This movie series has inspired a couple different lines of fashion. The first is replicas of what the actors and actresses were wearing in the movies. There is a whole section of fashion dedicated to reproducing the dresses and outfits that the different characters wore. All of the details have been reproduced, including the jewelry and shoes. There are even temporary tattoo kits that mimic the different tattoos that are shown in the movies.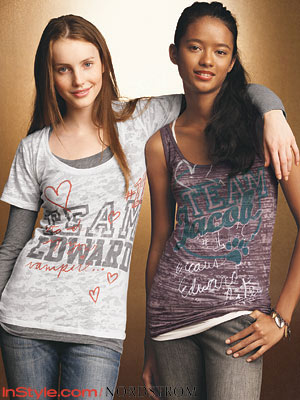 Not only did Twilight influence the fashion world by illustrating different clothing styles, the movies also influenced movie related clothing. All of the vampire and werewolf clothing is a direct result of the movie and the conflict between Edward, the vampire, and Jacob, the werewolf. These slogans can be seen on purses, shirts, pants, and dresses. There are even pieces of jewelry that say Edward or Jacob on them. It is amazing the influence that the movies have on fashion.