Spring is coming up quickly, we hope. While we have yet heard from the Ground Hog, the days do appear to be getting warmer and the sun is coming out a little more every day. (Yes, it is sunny where I am right now.) Now is the time to start looking at the spring fashion ideas for the upcoming season.
This spring is going to be all about bright and sunny days. Think classical spring. Lots of brighter colors, not too many pastels and ample supplies of flowers should grace your outfits. Some of the hottest skirts this year feature small designs of flowers and butterflies, harolding the spring season that everyone is so looking forward to. The shirts will often have small accents that help to keep the spring image up and strong without being overly obnoxious.
This year's purses will feature a lot of ruffle. This can be done in a couple different ways, including the multi-material ruffles, lace ruffles and the rebelous leather ruffles. The day of the shoulder purse is beginning to fade, although expect to see a lot of hand bags and clutches this year. The wristlet has also faded into the past, so 2010. The only time one can expect to see the wristlet is when out to the bar or dance club where a bulkier purse would only get in the way.
The shoes this year will be peep-toes. Expect the hottest shoes this year to feature the ever sexy peep look. This can be done in a few different styles, with the peep-toe boot making an appearance early this spring. Yes, it sounds like a contradiction, a peep-toe boot, but trust me, it is going to be hot. Go with it, love it!
Jackets are a must this spring. Even if it were not for the fashion, it would have to be for the temperature. This year, the ruffles will be moving to the jackets as well as the purse. This, paired with the princess sleeves, makes for a great romantic look as well as a princess look for the spring time. Expect unique materials, such as leather with lace and heavy canvas with a brighter look.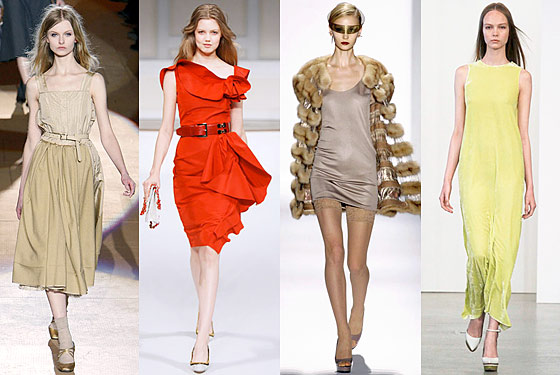 No matter what you wear this spring, enjoy this great season. We've had a harsh winter, and as the days get longer and spring begins to make its appearance, embrace it. Who knows, maybe if we embrace it, we might see a true early spring this year.